These philosophers were not sedentary thinkers, any more than their numerous research objects were stable. They frequently crossed borders and went on voyages. Just as border-crossing was necessary to the philosophers' spatial fix (Chapter 3), a certain reflexivity about borders become integral to their intellectual production.
"Philosophy and Borders" was the name of a fancy conference that the Philosophy Department organized in March 2011. It did not take place in Saint-Denis, nor even in the Paris region. Instead it was held across the country in Céret, a beautiful mountain village in the Pyrenées that had been a center of modern art in the early twentieth century. The conference sought to honor the memory of Jean Borreil, a French philosopher with Catalan origins, who had taught in the Philosophy Department until his premature death in 1992. The theme of borders was meant to resonate with Borreil's own work, and with the conference's location in Catalan country, that is, which spans the Franco-Spanish border. The event was lavishly funded by the Céret Museum of Modern Art, whose director, Joséphine Matamoros, had previously collaborated with Borreil. For the older philosophers, who had been there before, it became a site of memory. But for me and several other doctoral students, it was the site of a stressful rite of passage: to give a philosophy talk in front of an audience. Talks which had to be written at the last minute.
We first met each other in Paris for the trip to Céret, leaving from the cavernous Gare de Lyon. When I arrived in the station concourse, high-ceilinged and full of bakeries, ten people were already waiting. At the center of attention was Marie, the conference organizer who we met in Chapter 4. Marcel and Ishmael were already there, tending a duffel bag and a rolling suitcase, and mingling with several South American philosophers, who largely spoke Spanish. I chatted with one of the South American philosophy professors: we were both anxious about presenting in French. I learned that I was going to fill in for an absent presenter called Mendoza from Barcelona, who could not attend. It was Thursday. My talk, then unwritten, would be on Sunday morning.
Marie shepherded us to our train, heading off the senior professors when they tried to go the wrong way. We sat in the bottom level of a long TGV train; I was across from Marcel and Ishmael. Soon, a female professor sat down beside me, formally dressed. She introduced herself as Christine Bouissou, the Vice President of Paris 8 — clearly a powerful person to associate with. Patrice Vermeren introduced me from across the aisle, making much of my status as their American observer.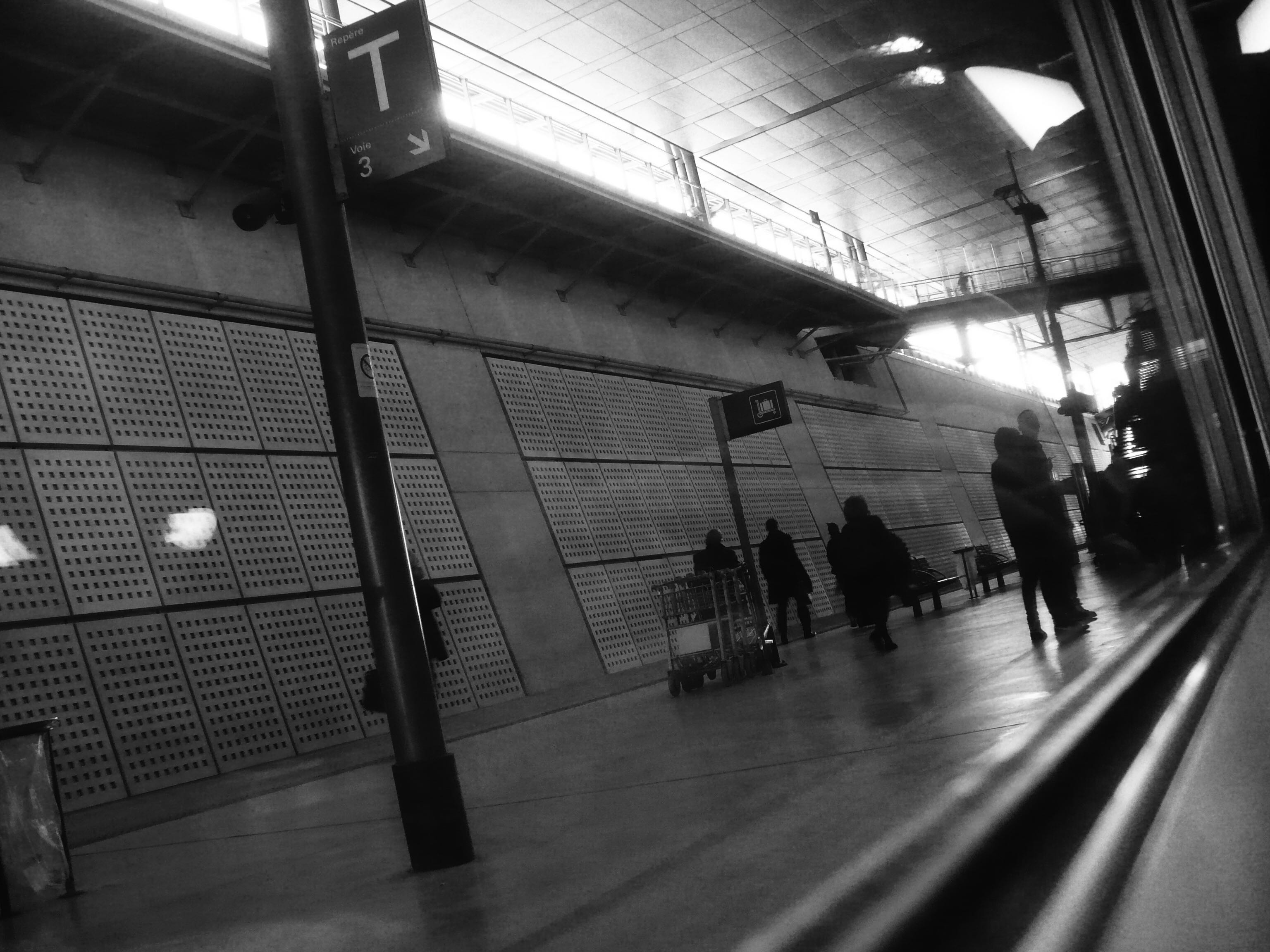 As the train departed, we all set to work on our conference talks. I searched my laptop for something to write about. Bouissou took out a mass of papers and began to write her talk in longhand. Across from us, Marcel and Ishmael sat tugging on their chins, staring off into space, and not really talking. Marcel flipped through a worn volume by Deleuze, and when I said something to Ishmael, he looked disengaged. "You're tired?" I asked. Je suis dans mes pensées, he said, "I'm in my thoughts."
The space of our train compartment thus became the contingent place where thought happens, one of those ambiguous spaces that are so functional for today's knowledge workers, blurring the lines between work and non-work. On the train, brief convivialities mixed with crowded solitudes, and little diversions became entwined with our approaching academic obligation to present conference talks. No one at that point was yet overwhelmed with writing anxiety. There was still time to maneuver, to get lost in thought or page through one's books, to enjoy the privileges of hesitation and procrastination.